Relax... Unwind... Create
WELCOME!
I hope my designs inspire you to pick up your needles...
and my knitting patterns help you to relax and unwind whilst you loop!
Happy Knitting!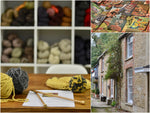 Preemie, Baby, Child, Woman, Man, Home
designed exclusively by UK designer
Linda Whaley
SHOP PATTERNS BY COLLECTION
"Made this for my preemie granddaughter born at 36 weeks . The pattern is easy to read and the hat came out beautifully. Will sure be buying from this shop again"

- Cruz on Oct 28, 2018 (FAY HAT)

"Beautiful, just beautiful! The patterns are so easy to follow! This is a very talented designer! Her step by step instructions make it possible to create something wonderful, even if you don't have advanced knitting skills!!"

- lsl1500 on Oct 3, 2017 (5 PATTERN BUNDLE OFFER ROCKET CLOTHING)

"I attended the picture knits workshop at Linda's beautiful studio. It was such an enjoyable and valuable experience. We had excellent help and support from Linda, and she was endlessly encouraging. I picked up lots of useful tips and suggestions. I can't recommend this workshop too highly and look forward to coming to another one in the future".

- Jill on 24th March 2019 (Intarsia Knit Workshop)

.....I sincerely believe your patterns are the best written that I have encountered and with that real modern twist. I found your finishing details made the garment look so professional and I will use your instructions as a benchmark for all other knitting I do....."

- Anne Shanks New Zealand (MINI STRIPE CARDIGAN)

"Adorable on my 'little pickle'! The pattern was easy to understand, very well written, and turned out beautiful. My first attempt at intarsia, and I'm glad it was from such a great pattern. Thanks! "

- Heather on 13 May, 2017 (LITTLE BAA BAA BEANIE )
Can you spot the Invisible seam?
FREE KNIT TECHNIQUE VIDEOS
Watch my VIDEO TUTORIALS for tips and help with the knitting and finishing techniques that I use in my knitting patterns. 
Take a closer look at the design details whilst I chat about each pattern in my VIDEO GALLERY.   
New videos are added regularly. 
I hope these help.
If you like my videos it would be sooo great if you could SUBSCRIBE to my YouTube channel (it's free), as every click helps my little knit studio to grow.  Thanks so much for your support X
Customer Project of the Week!
Loving these little matching Zeke DK Bobble Hats by Etsy customer Patricia Mead
Patricia said "Hats came out amazing, easy to read pattern"
Your hats do look amazing Patricia... absolutely beautiful knitting!
Thanks💜so much for sharing Patricia.
ZEKE DK BOBBLE HAT KNITTING PATTERN