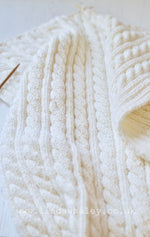 Hi there
I hope you and your loved ones are all ok.  I'm so thankful that my family got through the last 6 months safe and well. I hope you and yours did too.
It's just been announced that Covid is rising again, and the next 6 months are going to be really tough for us all too.  Take care and stay safe.
You may not have heard from me, but I am pleased to say my little business has survived the last 6 months.  Juggling my business with home-schooling was 'tricky' but we all got through it.   With these reduced working hours I just couldn't find the time to write blog posts and newsletters.... so sorry...  these are always the first to be put on my "I'll do that next week" list when I'm pushed for time.  (My brother who is a marketing director will be shaking his head in dismay at me) 
My knit and crochet patterns have continued to fly over to you these last few months, and I'd like to take this opportunity to say a very big THANK💜YOU to so many of you for your continued support.  My little knit business couldn't keep going without you.  
I had a few people contact me back in March saying they would love to learn how to knit during lock-down.  One of these was an amazing young nurse working on a Covid ward, wanting to unwind with some knitting at the end of her shifts.  So I made the decision to get on and film some beginners knit technique videos to help these new knitters get some stitches on their needles.  Filming video tutorials was something I'd never done before and it was a steep learning curve.  Filming during lock-down in our family house with 2 noisy kids and a boisterous dog was 'challenging' but I was on a mission to help.
My library of videos is growing!  My goal is to make a video for every technique that I use in my knitting patterns, so you can dip into them for help as you knit my patterns.
If you are tempted to take a look, you can view all my videos right here on my website now in VIDEO TUTORIALS and VIDEO GALLERY, or simply head over to my YOUTUBE CHANNEL.
I really hope my patterns and videos have... and will continue to help you find some calm in these worrying and uncertain times that still lie ahead of us.  I'm knitting my way through this..... are you?
Take care and stay safe 💜
Linda