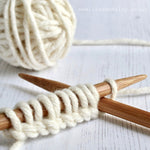 Hi there
I hope you are all safe and well and have found some calm throughout these last few weeks.
I'd like to take this opportunity to thank the incredible care and commitment of our NHS staff, care workers and key workers.  You are all amazing and very much appreciated. 
I realise just how lucky we are to be working and home-schooling our kids in the safety of our home and count our blessings that we have stayed well. 
My little business has been busy,  as lots of you...  like me.....  are knitting your way through this lock-down. 
I'd like to take this opportunity to say thank you so much for your continued support, it means the world to me and my family.
I was hoping to post lots of your projects here over these lock-down weeks but I haven't found the time. Thanks to those of you who sent in your photos...  so sorry for the delay.....  I will share them soon, I promise.
This time at home has been a time to reflect on my business too.  I have really enjoyed running my workshops and knit gatherings here in Oxfordshire, but realise it is difficult... or completely impossible for most (and now all) of you to come along to my studio.  So I have decided to bring my workshops to you, in your living rooms, in little bite-size videos.   
I thought it might be helpful for you to dip into these little tutorials as you are knitting.  These videos are short clips demonstrating the various techniques within my patterns and tips to help you achieve a professional finish to your knits that I hope you'll love. 
At my workshops and open studio events, I have also noticed how much you have enjoyed getting a closer look at my hand-knit collections, so I am also making little videos to give you a closer look and at my designs / knitting patterns. 
I have launched 7 videos over the last few days and will be adding new videos each week,  as I have so much to share with you.  Do let me know what techniques and designs you would love to see and I will add them to my list.  
These videos are FREE and can be found in my *sparkly new* YouTube Channel which I have called
LINDA WHALEY KNIT STUDIO. 
If you would love to stay in touch with all my video launches do click the SUBSCRIBE button within my YouTube channel...... it will also help me to become more visible on YouTube and spread the word about my little knit business which would be amazing. 
I hope you find these videos helpful.
Thanks for popping by,  do take care,  stay safe and stay well
Bye for now
Linda