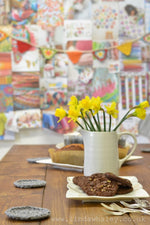 Hi there
Spring is emerging and the studio is looking fresh and colourful. Heaps of snowdrops and daffodils have been blooming just outside my studio window.... and the birds are singing. I love spring!
I am settling into the studio and getting to know the other artists and designers in our little creative community here in Oxfordshire.  Everyone is sooo busy, but we managed to put our needles/brushes/tools down.... at the same time, for a spring get-together here at Cuckoo Lane earlier this month.  I really enjoyed spending the morning with this group of inspiring and talented women, who all run their own creative businesses here in Oxfordshire.
The Oxfordshire Open Studio Artweeks Festival takes place in May.  There will be lots of studios open for you to see in Oxfordshire, so do come along and see us if you can. 
Inspired by the other studios here.... I  treated myself to some time-out yesterday morning to join Carrie Stanley's workshop at her art studio that's just along the path.  We explored quick, fluid life drawings in charcoal. Carrie is so inspiring!  I was taken back to my art school days for the morning. I loved it and can't wait for my next class! 
I have been super busy as usual with lots of new knitting pattern releases happening this month!
This is my new Little Pickle Knits hat shape. As you can see, I have popped my most popular picture knit motifs onto it.  I am so excited as this simple rib trimmed hat is already proving to be a super popular addition to the collection!   
My Little Baa Baa Hat and my Little Cars Hat knitting patterns are available now.  The new Little Heart Hat and Snowflake Hat will also be released later this month. 
Due to lots of requests from my lovely US customers, these new hat patterns have additional instructions to knit 'in the round'.
If you are a new knitter and not quite ready to explore Intarsia picture knitting just yet.... or if you are knitting in the round on dpns, simply Swiss darn (Duplicate Stitch) the little picture motifs onto your hat after knitting.  
I had a lovely morning last week teaching my Intarsia Picture Knit Motif Workshop to some lovely ladies.  They all went home with this technique learnt and the confidence to knit a Little Pickle Knit.  It was such a relaxed morning. Here are some photos from the day
....yes that's your fab car Jill! 
I best go now as I have to finish knitting a blanket but I'll catch up again soon.
Happy Spring Knitting!
Linda Whaley