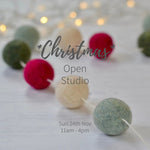 So how did we get to the end of November so quickly! 
This is a very quick post.... as I am just having a little coffee break, as I am madly preparing for our CHRISTMAS OPEN STUDIOS this weekend .... and I still have heaps to do!
As you may already know, my little cottage studio is set within a fab community of artists, designers and crafts people...known as the Cuckoo Lane Artisans. We all run our own independent creative businesses from the cottages, barns and outbuildings within the Eynsham Park Estate.
We are throwing open our studio doors this coming Sunday for our Open Studios and Christmas Shopping Event.  If you can get to Oxfordshire this Sunday, do come and say hi, take a look at our studios, see what we've been creating, and join us for some festive drinks and nibbles whilst you shop.
I will be selling my Rocket Clothing London Indigo Dyed Cotton Hand-Knit Sweaters, 
Hats, Mittens,
a selection of little Festive Embroidered T's for little people,
Felted Pom Pom Garlands, Crochet Bunting, Knitting Kits, Yarns and Needles.


You will also find:
Jewellery, Fine Art, Felted Christmas Decorations & Gifts, Christmas Cards, LeatherBags/Purses/KeyRings, Printed Letterpress Stationery, Calligraphy, Health and Well-Being Products, Homeware
You will have the opportunity to purchase leather key-rings and emboss them with your own message with Jenny/Little Gem Letterpress and Krystina/Fig Bags.
Calligraphy artist and tutor Illyahna/Illyboodesigns will be personalising gift tags with your Christmas messages on Sunday too!
Here's just a little glimpse at some of the other amazing work that will be at our CUCKOO LANE ARTISANS CHRISTMAS OPEN STUDIOS! 
Sun 24th November 11am-4pm
Cuckoo Lane Art Studios,
Eynsham Park Estate,
Cuckoo Lane,
North Leigh,
Oxfordshire,
OX29 6PW
.....we have our own carpark and its free
Come if you can :)
Best get on as I still have lots to do!